Septic System Construction Permits

Septic systems are essential to both commercial and residential developments where municipal water and sewer are not available. No matter what size the project, Norway Plains has licensed New Hampshire subsurface designers ready to help.
Our designers can assess your septic tank/effluent disposal system, re-design a failed system or make revisions to your current septic to accommodate additional loading, home additions or commercial use expansion.  We have the collective knowledge and experience to design and permit for your septic system needs.
Septic system inspections and compliance

Our highly trained engineers, surveyors and field technicians perform on-site percolation tests ("perc tests") and test pit soil analysis to assist in establishing the best location for your system, and will determine the correct well radius and wetland setbacks.  Be assured that we stay current of continually-changing state and local regulations to ensure compliance where and when it is needed.
Waterfront Properties Assessments
Did you know Subsurface System Site Assessment Surveys are required to sell certain developed waterfront properties in New Hampshire?  We will competently assess your system and complete the site assessment form in time to make your sale.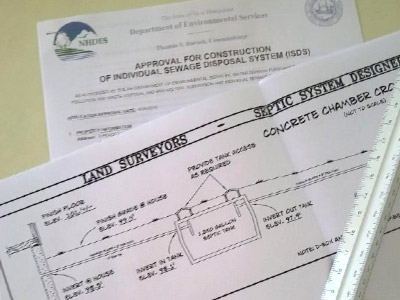 Want to save money on your newly constructed Septic Design?
Make sure your house is placed correctly on site the first time.
Confirm it meets boundary setbacks and has no construction hindrances.
Your septic design will require changing whenever your prospective home is significantly moved and redesigns cost money!
If your plan is changed during installation, the State requires an as-built drawing that requires inspection of the installed system and revisions to the final plan submitted to the State.  This adds cost to your design.